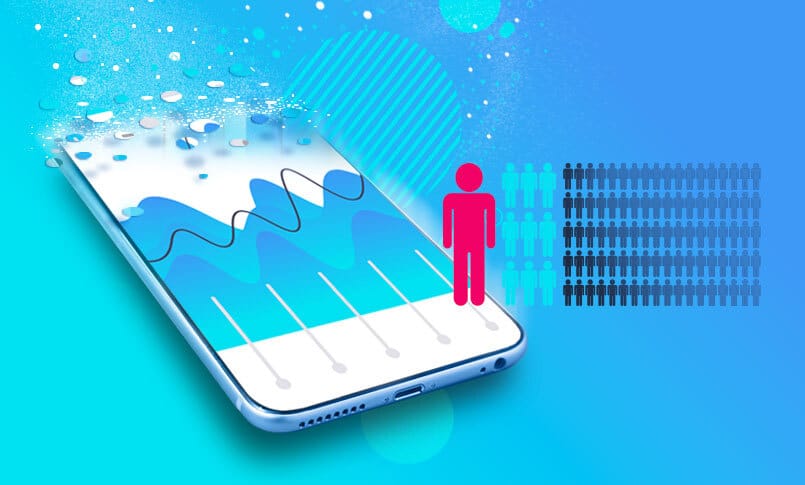 The Power of 5 Second User Testing and how we've used it to de-risk a Brand Refresh
By
John Woods
 |  November 22, 2022
So, what is 5 Second User Testing?
It's a 
user research technique
 where participants see an image for a short time period (typically, but not always, 5 seconds!) and are then asked some questions about their impressions.
OK, but what can it be used for?
It can be used to add value and reduce risk in a whole range of marketing projects by providing insight into the effectiveness of the visual design, headline copy and information architecture of a piece of content. 
Sounds good…so why do you like it so much?
These are the key advantages of 5 second user testing:
It's flexible: you can test your own live content, or content that is still under development, or even a competitor's content.
It's cost effective: you can run a basic test for a few hundred pounds. (More complex tests cost more, but it's still a very low-cost solution compared to most user research methodologies.)
It's quick: it's possible to complete a test within a day.
It works: even when testing complex B2B propositions, time and again we get great insights from 5 second testing that help to improve marketing performance.
It engages stakeholders: the results from the tests are easily digestible and thought-provoking even for non-specialist stakeholders.
Hmmm, 5 seconds doesn't sound very long…
It's plenty of time! We're looking to test the immediate visual impact of the content. We are looking to find out whether it gives a strong and effective first impression, and to find out if there are any sources of confusion that need to be eliminated from the design.
The first impression isn't the whole story about marketing effectiveness but it's a crucial component. For example in search marketing, if your landing page doesn't immediately create a positive impression for the visitor, they won't hang around to read the detail – they'll hit the back button and move on to a competitor's listing.
OK, I'm interested, does it work for B2B?
Yes! Perhaps surprisingly well. We've used 5 second user testing with great success across a diverse range of B2B marketing projects. We've a detailed B2B case study example below.
But do you need to recruit a specialist panel?
Many forms of market research are difficult for B2B because of the need to work with specialist research participants – people who are expert in the subject matter under test. But for 5 second user testing the panel members don't need to be experts in the subject matter.
We're not concerned about how a person responds to the complex details of the content under test, just their first impressions – and these are usually much the same whether they have subject matter expertise or not.
There are often cultural elements to how people process visuals, so ideally we use a test panel that is broadly representative of the target audience in terms of geographic location, age and education level. But we don't need to be more specific than that for most tests – which makes test setup and execution much faster and easier.
You mentioned an example?
Here goes!
We're in the process of refreshing our branding at Sharp Ahead. We like our current branding but we don't feel it quite represents the agency we are today, especially with our last couple of years of growth. So we've developed a refreshed brand concept which we all absolutely love, and we're keen to roll it out.
But with any project like this it is easy to get too close to the work and too attached to a creative concept. We are not our own target audience! So we wanted to reduce the risk of our rebrand by testing the new branding against the old.
We chose to test one of our most important PPC landing pages – a page that allows a prospective new client to sign up for a free initial consultation with one of our directors.
Here's the current version of the page with the original branding: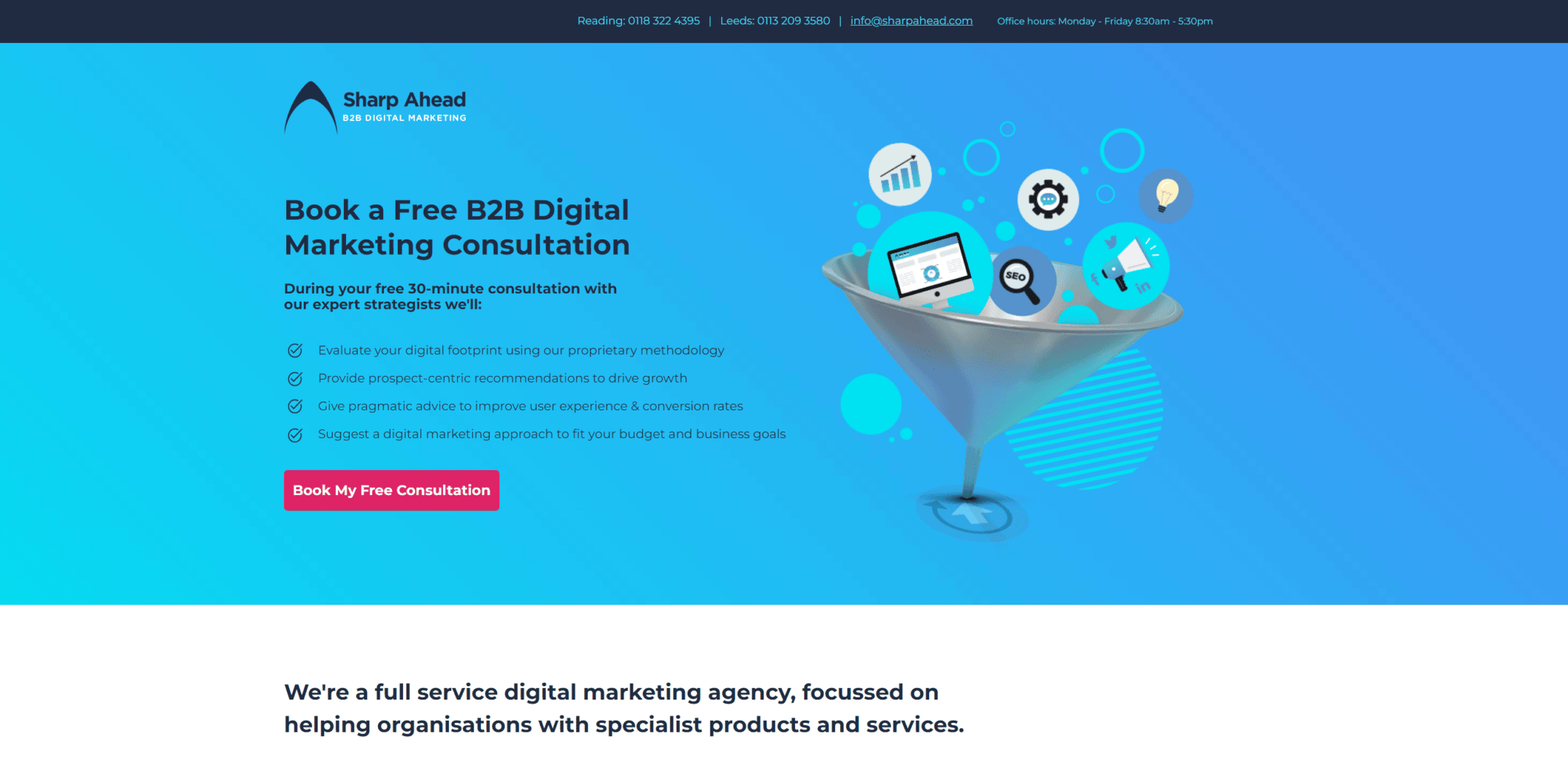 And here's the new design – note that this is currently just a flat design, not a live web page. (One of the advantages of this test method is that we can test an early design like this.)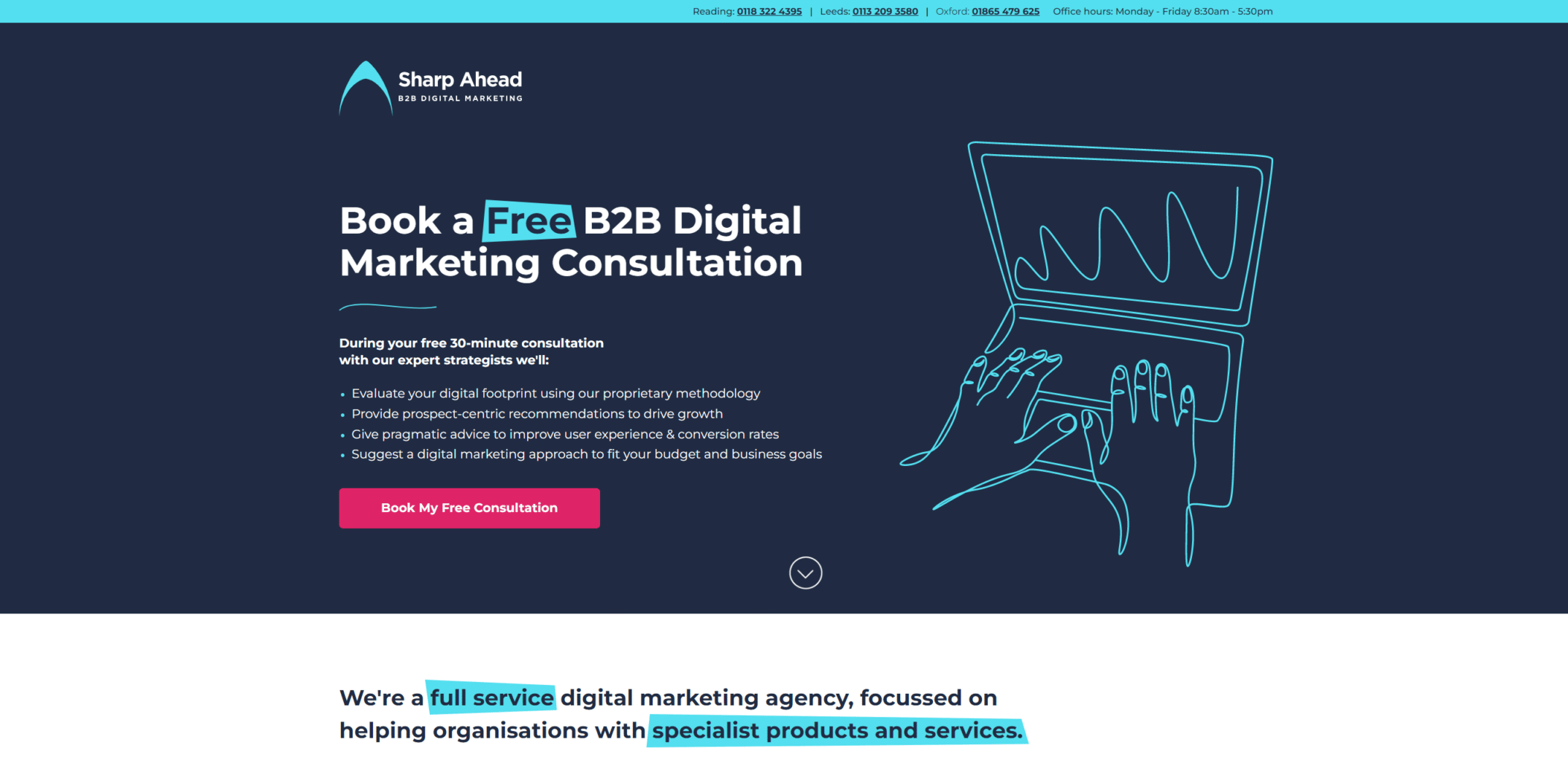 We tested the two versions with separate panels – this is important, we don't want to "educate" a participant about the first version of a design and then have the same participant give a distorted impression of the second version.
The results gave us a lot of confidence in the new branding. For example the new branding scores 23% better on an index of "professionalism" – a big improvement that aligns with where we are looking to take the brand.
The change in the page design was also intended to simplify the visuals so that they were less distracting – allowing the reader to focus on the CTA and other key elements of the page. Our test gave us some confidence that we've achieved that. Here's the word cloud showing what people recalled the most strongly about the original page: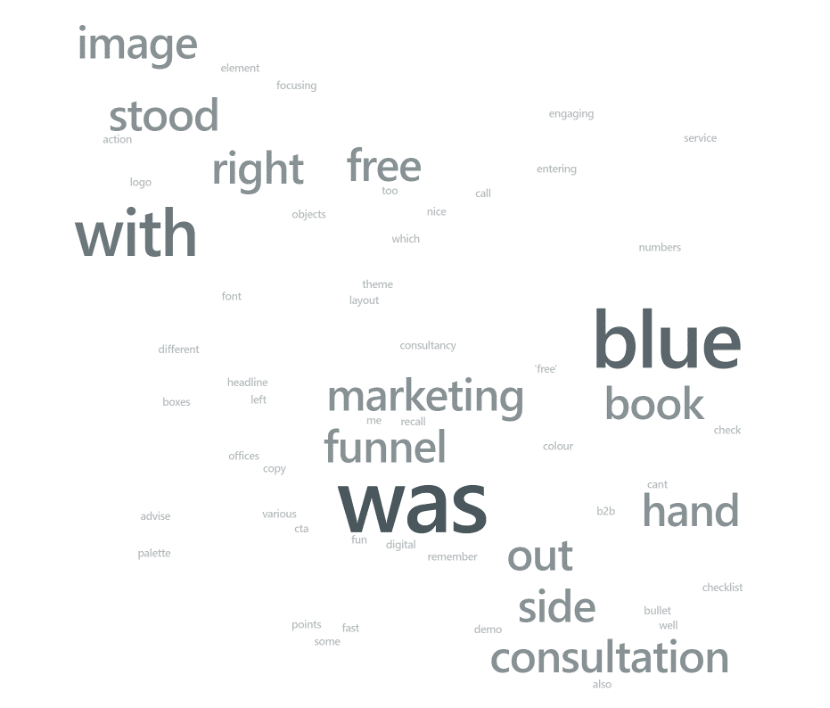 Note how "funnel" and "book" and "image" stand out there, at the expense of "consultation". This word cloud suggests that the visuals are distracting from the primary CTA, not enhancing it.
Here's the corresponding word cloud for the new design: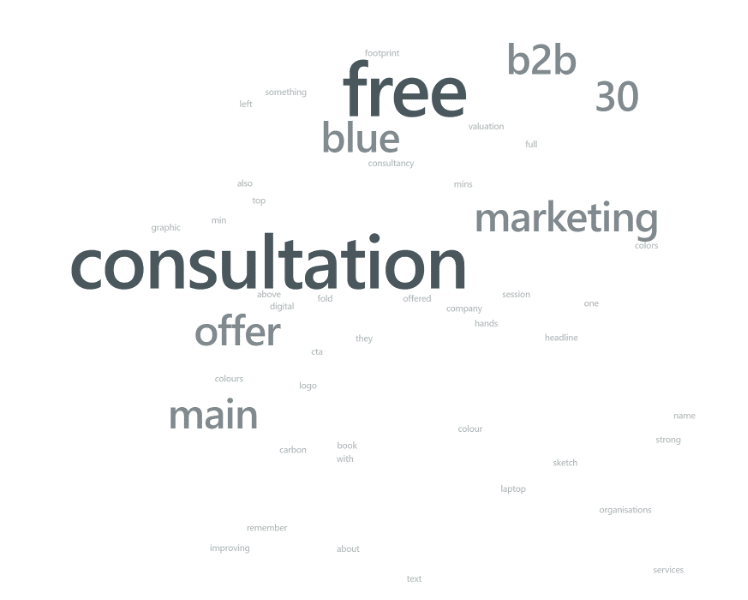 This is a much better result! The panelists have seen and recalled the offer of a free consultation, and the fact that we're a b2b marketing specialist. So we can have a lot of confidence that the new design has achieved its objectives.
So, there we have it, a perfect example to illustrate the benefits of running 5 second user testing to provide insight that can help your brand evolve positively. 
OK, I'm convinced! Can you help me put this technique to use?

We often use 5 second user tests as part of a larger project (e.g. website design or paid media campaign setup) in order to reduce risk and improve results. But we're also happy to run standalone tests for clients. If you think 5 second user testing could help you, please get in touch.
<< Back The big open rate lie What's a good open rate for a B2B email campaign? It's an innocent-seeming question and I hear it
Read More »