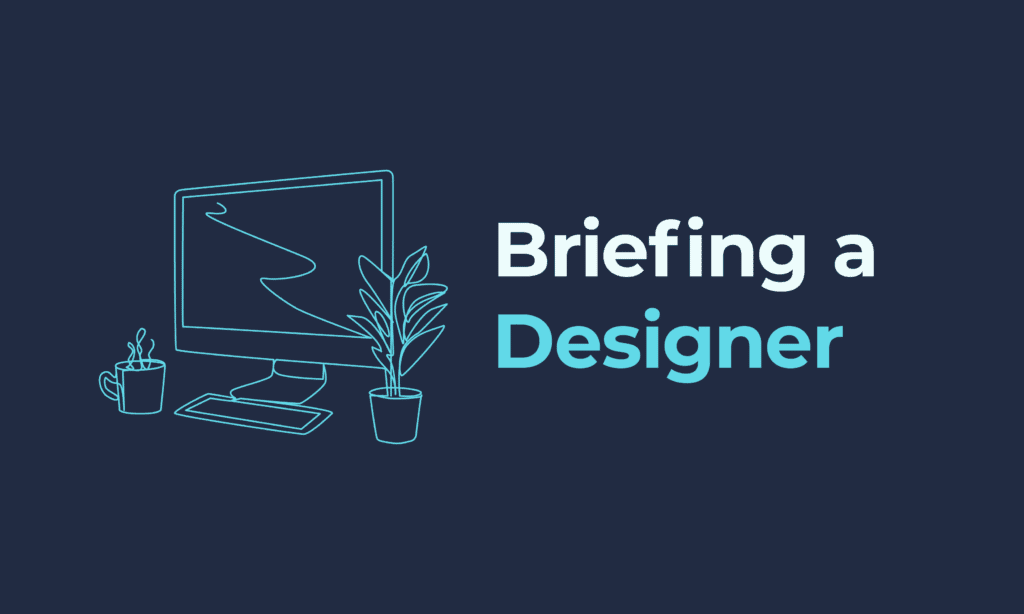 How To Give Your Agency A Good Design Brief
By
Jennifer Esty
 |  January 16, 2023
Do your marketing design tasks go over budget, or require a lot of revision cycles, or just fail to achieve the outcome you hoped for? There's every chance a better design brief could help…
With this in mind, we've put together a few points on how to give your agency a good design brief in order to reduce confusion and increase the chances you'll achieve your design objectives, from concept right through to delivery.
Provide Your Brand Guidelines
Providing your brand guidelines is a crucial part of providing a good design brief. Your guidelines should demonstrate how you use your branding across various media, print, ads & web (etc). If you're using a custom font, or a font that is not available to download via typekit (or an equivalent), make sure to share your font files with your designer so they have everything they need to ensure they meet your brand guidelines.
If you're briefing a piece of design work for a new advert/design, make sure you present any other ads that you have running, or the latest version of your ad that needs updating. This will help to avoid the design going in a different direction and ensure brand consistency.
Provide Design Inspiration
Make sure to include designs from other brands that you like and provide commentary on why you like them. Including a range of different design inspirations will help your designer start on the right track and will also help make it clear which elements of each design you do and don't like. 
It's also hugely helpful to provide examples of stock photography alongside the designs. What kind of style and feel do you like? Are the images with or without people? Corporate or more laid back? 
It's often worth investing in an image library or creating bespoke illustrations so that you can avoid using time on searching for the right images and instead use that time refining other areas of the design. 
If you're designing for web, it's also a good idea to provide information around what sort of layout you might like and to even provide examples of any motion design, such as parallax scrolling or animated details, that might help bring your site to life. 
All of this information helps the designer form a full picture of what exactly you're hoping to achieve with your design.
Telling your designer what you don't like is just as important as specifying what you do like. When putting together examples of good design, make sure to include examples of the sort of design you don't want to see so that your designer can make sure they don't take a direction you're not happy with. 
Specify Where Your Designs Will Be Shared 
It's important to tell the agency who will be using the design files as well where they will be used. For example, will they be used only by internal resources who just have access to platforms such as Canva, or will they be shared with other agencies who have in-house design teams? This will help your designer understand what file types to provide when packaging up your design and whether there are any dimensions, aspect ratios or resolutions to be mindful of.
To conclude, there really is no such thing as too much context and providing as much information as possible will give your designer the best chance at creating a design you feel truly happy with. 
Want to have these helpful tips at your fingertips? We've created a free checklist that you can download and keep on file for whenever you've got a design brief to deliver. We hope you find it useful! 
If you'd like to continue the conversation or find out more about the design services we offer at Sharp Ahead, please do get in touch – we'd love to hear from you!