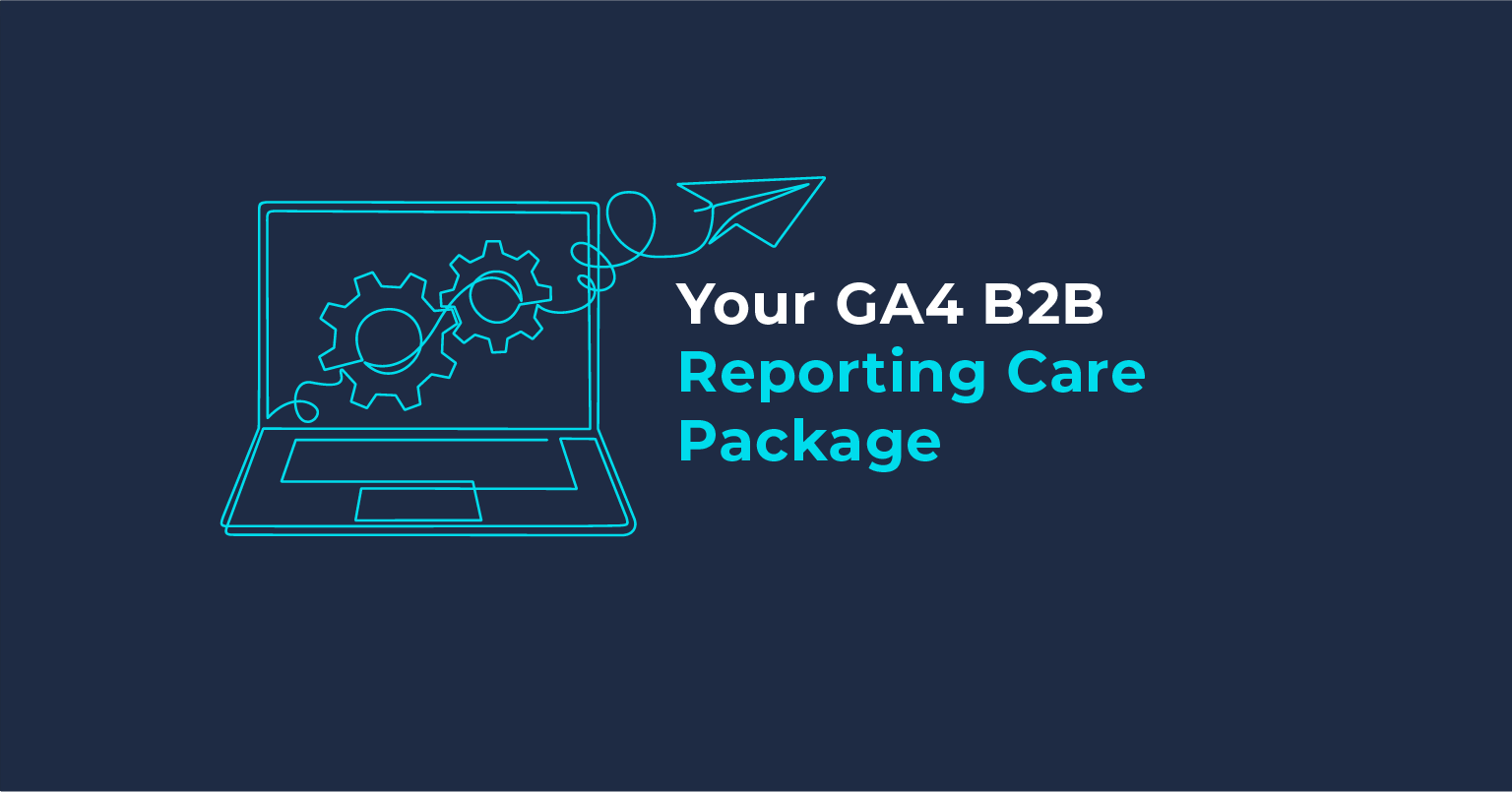 Your GA4 B2B Reporting Care Package
By
John Woods
 |  August 1, 2023
With Universal Analytics now well on its way to live on the proverbial farm in the countryside, it's time to get to grips with our new pet reporting system, GA4.
If you're new to GA4 we'll forgive you if the reporting interface sparks a little sense of, well, bewilderment if not outright panic. It's a big change from UA and it's hard to get oriented.
Here are a few quick tips on B2B reporting for those new to GA4 to help ease this painful transition!
1. Bite the bullet with Explorations
Whereas you could do almost everything in UA with standard reports and perhaps a few segments, the standard reports in GA4 just don't cover everything you'll need. Head to the "Explore" menu and invest some time to learn the custom reporting or "Explorations" part of the GA4 system. It's a little complex but flexible and powerful. You'll thank us once you've conquered the learning curve.
2. Consider using Looker Studio for reporting
If you're going to need to create custom reports anyway, why not create them in a more powerful and flexible reporting system?
3. Active Users is the new standard user metric
And it's a more meaningful number than UA's "Users" metric. Similarly look to "Engaged Sessions" as a more robust metric than the old "Sessions". Don't expect these numbers to exactly match your old UA metrics.
4. Beware of thresholding
We see a lot of cases where GA4 standard reports are rendered almost meaningless because of GA4's default "thresholding" behaviour. This happens when a small volume of data triggers a possible privacy consideration in the background of GA4. It's easy to overlook this because GA4 switches thresholding on and off automatically depending on the data – so a given report might be impacted by thresholding on one day and not on another. You can't turn thresholding off, but at least you can see when it is happening by watching for this little graphic: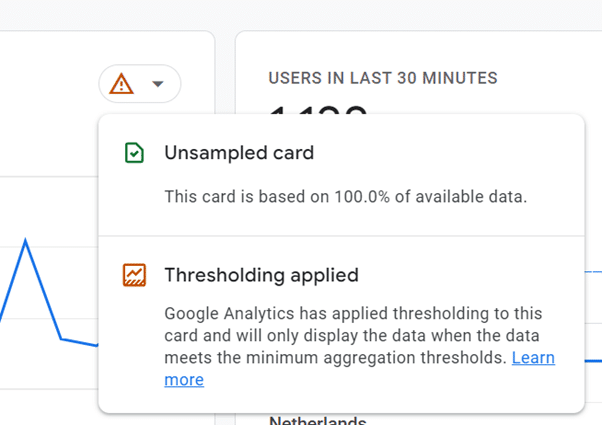 Thresholding is particularly problematic for B2B where we're often dealing with small numbers of sessions – so the thresholds cut out a lot of important data. You can often use a custom Exploration to work around this. (There's a similar issue with "sampling", but if you're a B2B site you are less likely to hit this issue – it kicks in when data volumes are very large.)
5. Check your data retention settings
By default, GA4 deletes granular data after 2 months. That's not long enough if you're working with extended B2B sales cycles. Make sure you've changed that setting to the maximum allowed (currently 14 months).
6. Be alert for lingering data collection setup issues
There's a lot of complexity around the setup of the more "advanced" aspects of GA4 like ecommerce reporting and conversion events. If you can't get the data you want out of your reports, it's possible the data collection setup is wrong. You might not be able to fix these issues in the reporting system.
7. Consider alternatives
Google Analytics is valuable but it's not the only measurement game in town. In our work we like to use Microsoft Clarity to complement GA4. And there are many more options that are worth considering.
If you need help with the GA4 transition or with website measurement and reporting for B2B in general, please get in touch!
<< Back The big open rate lie What's a good open rate for a B2B email campaign? It's an innocent-seeming question and I hear it
Read More »