What To Look For In A B2B SEO Audit – The 6-Step Framework For Success
By
Rachael Clark
 |  August 11, 2021
For many B2B marketers, the logical starting point for their SEO strategy is an audit—after all how do you know what to fix if you don't know what is broken, or how to prioritise content creation if you don't know what the search landscape even looks like?
A B2B SEO audit should be both a pragmatic and strategic launchpad for your objectives, but how do you know if the audit itself is any good?
Here are our pro tips for what to look for:
1. The Three Key Areas
A good SEO audit will cover three key areas: on-page, off-page, and technical.
They of course have a lot of cross-over and the key is identifying which elements of each of these should be prioritised.
In a perfect world of unlimited time and resources, you would fix every issue—but sometimes you have to be pragmatic and consider the ease and impact of each of the changes being suggested.
What your audit may reveal:
On-page: are page titles and descriptions in place, unique and of the right length; primary keyword is in the H1 and in the page content; do you have internal and external sitelinks on the page; is the content not comprehensive enough to rank?
Off-page: what sort of page authority do you have? Where are your strongest backlinks and where is there more opportunity?
Technical: page speed issues, existence of 404s, whether schema is used correctly (or at all!)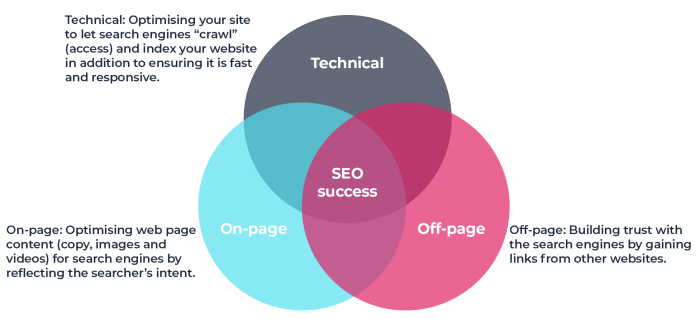 2. UX
UX and SEO are inextricably linked. Things like the information architecture and the navigation design are fundamental to both. You simply can't achieve success with one without the other.
What your audit may reveal: Pages, posts, categories focused on the internal structure of a business, rather than that of the searcher's intent.
A good SEO audit will also include pragmatic UX tips and advice on site performance (which has never been more important since the announcement of the Core Web Vitals criteria).
3. Understand the B2B Decision Maker and Influencers
Delivering the best SEO strategy requires an in-depth understanding of the audience. Ask yourself the following questions:
Who are you trying to speak to?
What are their challenges, frustrations and goals?
How do your solutions/products/services help address or support the above?
Consider this step "the method acting of the search world" – get into character and think like they think in order to identify the right search terms for your business. If you have the time/budget available, then interviewing existing customers can help provide you with insights into the buying patterns to bolster your own efforts.
4. Focus on the Funnels
A good SEO audit will provide prioritised recommendations for keywords and content based on where in the funnel your prospects and customer are.
Depending on your business objectives and growth strategy you might need to focus on getting more prospects into the top of the funnel or more urgently require conversion optimised bottom of the funnel content and pages. Your SEO audit should reveal those key terms and opportunities and help focus your marketing resources in the right areas.
Top of the Funnel (TOF): the audit may reveal new opportunities for broader trends in your market, search themes or innovations.
Middle of the Funnel (MOF): the audit may reveal closely related products, services or even business challenges for which you could rank.
Bottom of the Funnel (BOF): the sorts of keywords that match your product or services and indicate strong consideration or purchase intent, e.g., product pricing, product recommendations—the sorts of keywords you may also be bidding on in paid search.
When identifying terms, it is vital to put yourself in the position of your prospect and recognise the key differences between B2B and B2C SEO:
| | |
| --- | --- |
| B2B SEO | B2C SEO |
| Low-Volume but High Value Keywords | High-Volume but often Low Value Keywords |
| Complex & Often Long Sales Funnels | Shorter Decision-Making & Simpler Sales Funnel |
| Smaller More Specific Audiences | Broader Audiences |
Low volume keywords do not necessarily mean they should be ignored. Consider this Ease/Impact Matrix when deciding what terms will be relevant for your business: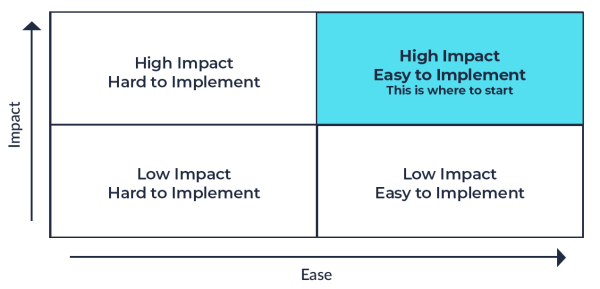 Examples of what may impact where a keyword/phrase is placed on the Ease/Impact diagram:
Keyword difficulty
The balance of optimising existing content or needing to create content from scratch
Overall business value of a lead/conversion
Credibility in that space
Understanding the competitive landscape is key for an SEO audit. But what is a competitor? In the SERPs, it's whomever is ranking for the term you want to rank for – not just who you see as providing a directly comparable product offering.
5. Competitors
A thorough audit can even reveal new competitors as well opportunities that your competitors have missed, and help you gauge just how much work is going to be involved in moving your competitors out of a top position.
A really thorough audit will even look at your competitors off-page authority and make suggestions for backlinks and potential partnerships.
6. Remember, go back to basics
SEO isn't rocket science. If users aren't searching the terms you've focused, then it doesn't matter how beautifully crafted your webpage is, they'll never find it organically.
Steer clear of falling in to the trap of "we want to 'own' term X". This is often a result of internal politics and can derail efforts that will actually deliver tangible business value.
That's not to say that other "non SEO" content doesn't have a place on your website. You may have pages on your site that won't themselves rank but you drive to them from other channels, such as email, or you may want to "start" a conversation where one doesn't currently exist – let's face it, someone had to say "digital transformation" first. This page itself is an example of a blog that is unlikely to gain too much by way of organic traction but provides value to our existing clients, social followers and email contacts…plus a few internal links back to our main SEO page!
Obligatory Sales Pitch
And of course, we'd love to help with you with an SEO audit and even provide training and support to your internal teams, just get in touch to find out how we can help!
You can find out how we've helped other B2B organisations by having a look at our case studies.