Google is bringing a big dose of science to web user experience…and it matters to anyone with a website
By
John Woods
 |  June 9, 2020
Google has announced a new set of standards for measuring "page experience" – that is, whether a particular web page delivers its content in a way that gives a positive experience for the user. These new standards provide a specific, pass or fail benchmark for three aspects of page experience that Google's research has identified as particularly impactful for users.
Many websites currently fail to meet these new standards. Google is allowing a period of time before enforcement, but site owners are now on notice: they will need to improve their websites to meet these new page experience benchmarks, or face penalties to their SEO rankings.
In this article I'll give an overview of the new standards, discuss their implications for B2B digital marketers, and highlight some immediate next steps you should be taking to ensure you are not left behind as Google rolls out its implementation of these standards.
Introducing Core Web Vitals


Google is calling the new standards "Core Web Vitals". You'll start to see them appear in various Google tools and reports. For example, here's how they show up in Google Search Console: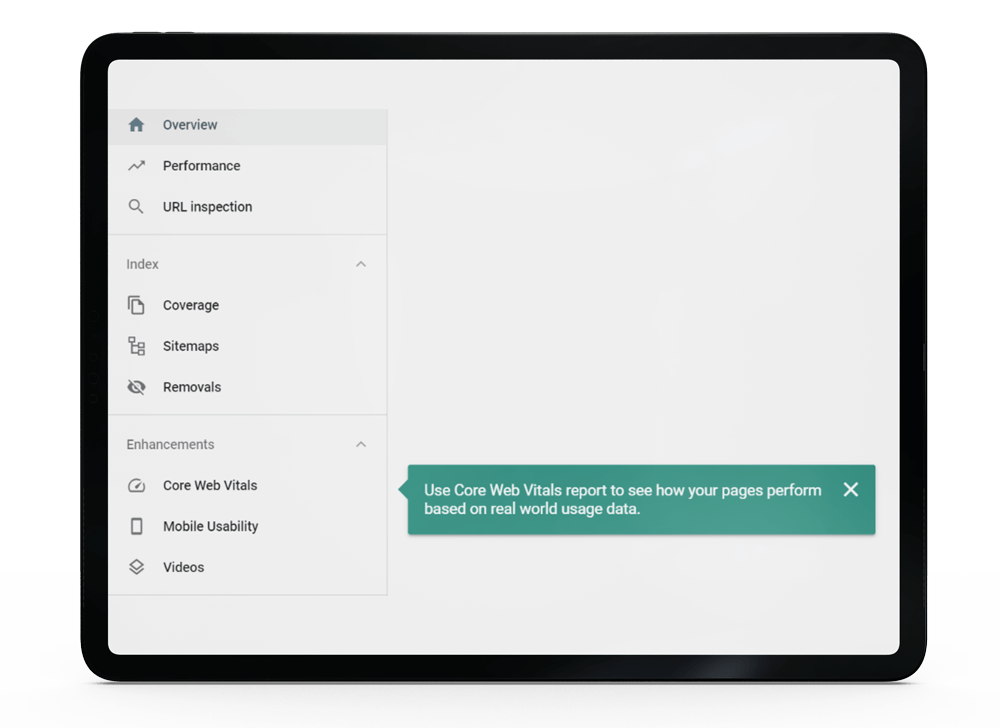 There are three separate measures in Core Web Vitals:
• Largest Contentful Paint (LCP): a measure of how long the page takes to display, when first loaded
• First Input Delay (FID): measures how quickly the page becomes interactive
• Cumulative Layout Shift (CLS): measures what Google calls "visual stability", in other words how much the page elements flicker and move around during the initial loading process.
Each of these measures has its own specific benchmarks on a traffic light system. For example the LCP needs to be below 2.5s to score as "good". Between 2.5s and 4.0s LCP means "needs improvement". And LCP above 4.0s means "poor".
I'll drill into these three measurements in a future article. For now, it's enough to say that they measure separate and largely independent aspects of user experience: so for example a page that scores very highly on LCP could still score badly on FID or CLS. So each measure will need individual attention.
Why Core Web Vitals matter


Page experience has been important for SEO for a long time. Google and other search engines naturally want to feature pages that will provide a positive experience for users. But to date the exact impact of page experience on SEO rankings has been hard to understand.
This is great news for all of us when we use the web: by providing an explicit incentive to avoid poor page experience, Google is helping to encourage higher standards for user experience across the web.
It is also good news for site owners: with Core Web Vitals, Google is making the impact of page experience on SEO much more transparent. A website owner can use the Core Web Vitals benchmarks as a reliable guide to whether their page experience is good enough to avoid SEO penalties, and can target specific improvements if they are needed.
But there is some bad news for site owners: the Core Web Vitals benchmarks are pretty demanding! It is likely that many websites will need to make significant technical changes to meet the new benchmarks and avoid SEO penalties. This is especially true for niche B2B websites which have often been designed and implemented with relatively little concern for page experience.
Although Google haven't said so explicitly, I predict that page experience will become a much more significant ranking factor for SEO as Google rolls out these standards. So B2B marketers who pay attention to Core Web Vitals and who take action to ensure their websites meet the new benchmarks will be rewarded with higher levels of organic search traffic. And those who do not take action are likely to see their organic traffic decline.
Google's announcements so far only relate Core Web Vitals to organic search. But I would not be surprised to see Core Web Vitals quickly becoming a factor in quality score for paid search (PPC/SEM). Google Ads already has a component of quality score for "landing page experience", so it would be entirely logical for Google to take Core Web Vitals into account in the future. If that happens, Core Web Vitals scores will have a direct bearing on PPC costs: because a higher quality score reduces the amount paid for each click, and vice versa.
There's time, but the clock is ticking


Google acknowledges that website owners will need time to improve their page experience. Their announcement says that the new measures will not be incorporated into SEO rankings until 2021 at the earliest, and that there will be a minimum of 6 months' notice of the specific date.
Google has introduced similar policies in the past designed to encourage improvements in user experience. In particular, Google encouraged site owners to move from non-secure http: to secure https: connections, and pushed for mobile-friendly page design. Both of these were introduced gently with a small SEO impact at first, increasing over time. I predict we will see the same with Core Web Vitals: a small penalty for sites that don't meet the benchmarks at first,  but rising to a much more substantial penalty over time – to the point where, like https and mobile-friendliness, it will become inconceivable to attempt any meaningful SEO strategy on a site that does not meet the Core Web Vitals benchmarks.
What to do now – find out where you stand


You can see how your web pages score against the Core Web Vitals benchmarks right away. Check your website with Google's free Pagespeed Insights tool. You'll see your current scores highlighted with a blue icon, like this example: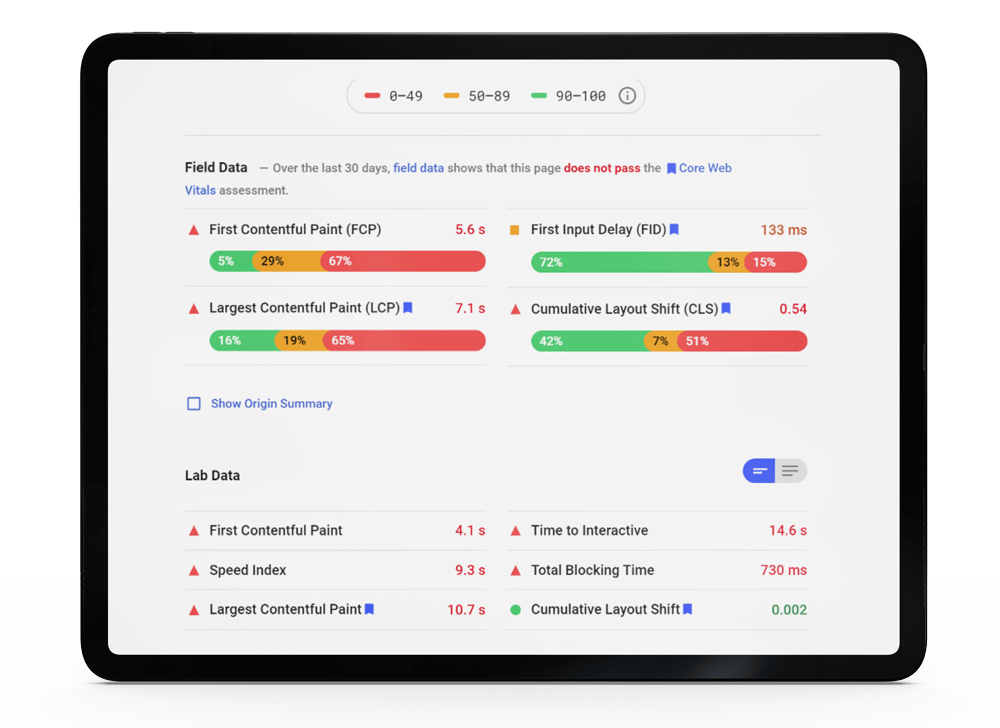 Some things to consider when using this tool:
• Each page will have its own scores. You should check more than one page: important pages like the homepage and the "contact us" page, for example, and any pages that you have built specifically to bring in organic traffic.
• Pagespeed Insights ranks mobile and desktop versions of your page separately. Make sure to look at both. Many B2B sites are built primarily for desktop, a great set of Core Web Vitals on desktop won't help you much if you fail every measure on mobile.
• The report shows both "Field Data" and "Lab Data" – concentrate on Field Data if it is available. If your page has small numbers of visitors (like many niche B2B pages) there may not be enough data for the "Field Data" report to show. In that case you can use the "Lab Data" report as a backup.
What to do next – plan to pass the benchmarks


You may be lucky enough to find that all of your important pages already pass the Core Web Vitals benchmarks. If so, congratulations! You should still remain vigilant, especially if you plan any technical or design changes to your pages, but it's unlikely you will need to do any major work.
But it is much more likely you will find that your pages fail at least some of the benchmarks. This is especially true for B2B websites, where page performance and user experience are typically not given high priority in the design and implementation stages. In that case you'll need to plan and budget for technical or design changes, or brace yourself for an eventual SEO penalty and consequent loss of organic traffic – and perhaps other negative implications too.
For some B2B website implementations it may be impractical to meet the Core Web Vitals benchmarks even with very large amounts of work. If your site is one of those, it may be time to consider a redesign or a complete replatform – with compliance with Core Web Vitals benchmarks an explicit goal for the project.
If you'd like help understanding the impact of Core Web Vitals on your B2B digital marketing strategy, or with any other aspect of B2B digital marketing, contact us today for a no-obligation consultation.