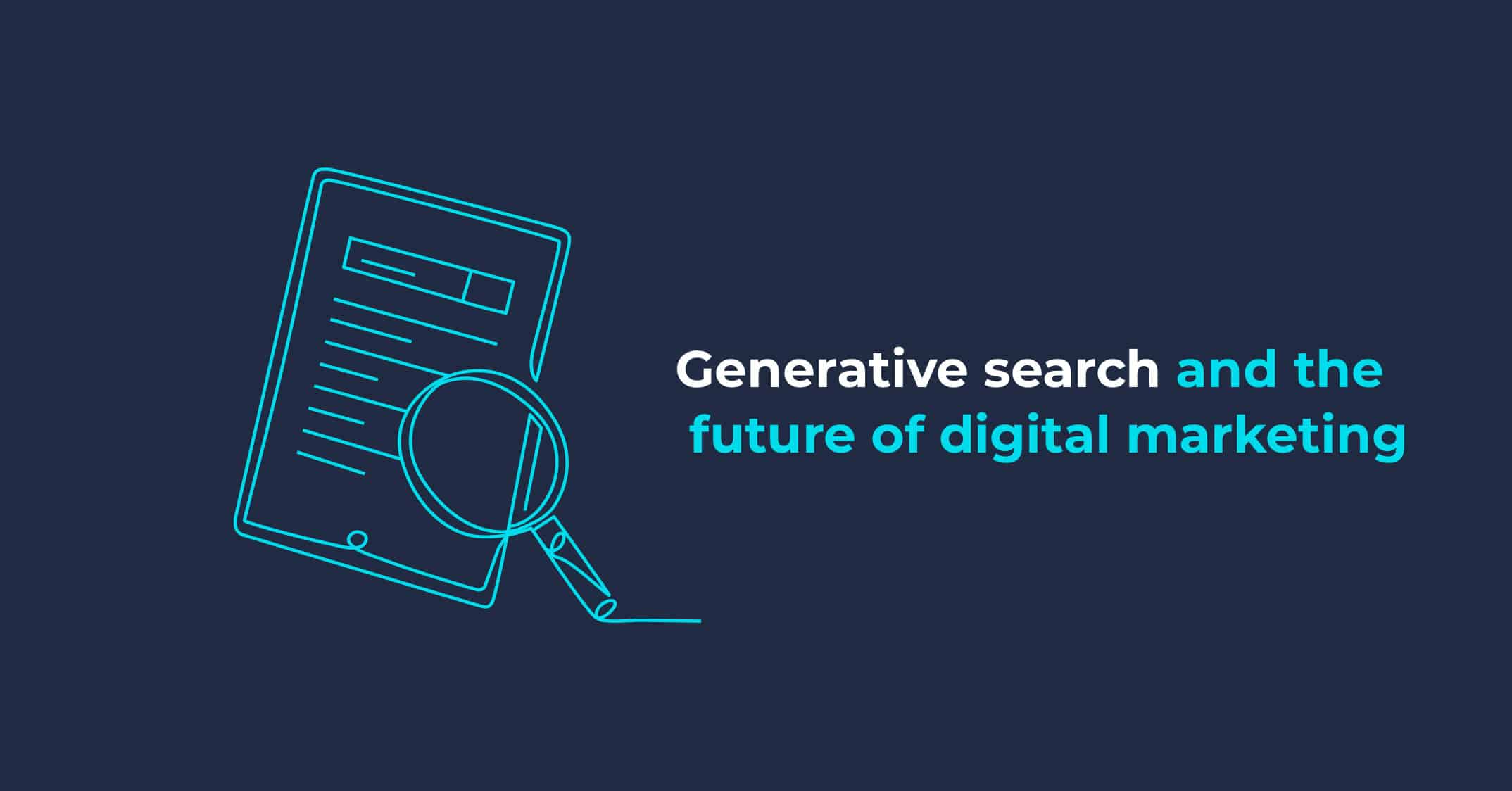 Generative Search and the Future of B2B Search Marketing
By
John Woods
 |  October 11, 2023
Some thoughts on the direction of travel…
It's obviously risky to make predictions about something as radically innovative and fast-moving as Generative AI. But I'm willing to take a chance and make some observations about the likely impact on B2B search marketing, at least in general terms. And if I'm right, there are some obvious things that B2B marketers can be doing right now to help future proof themselves and their work.
I took a look in detail at Microsoft and Google's Generative Search tools (Bing Chat and Bard) earlier this year. I updated that research for my recent presentation at Leeds Digital Festival. Even with that short gap of a few months, there was a lot of change and improvement in both tools. Here are my observations and predictions:
Generative Search is already useful for some types of B2B research, and it is getting better at a rapid pace. So generative search will at least partially replace the conventional search engine experience for B2B research in the future.




I'm not saying that conventional search engines will disappear overnight, or that they will ever disappear completely, but we're going to see at least some non-trivial fraction of B2B search activity switch away from conventional search engines in favour of generative search. This creates both an opportunity and a threat for search marketers.

Microsoft is making a really big bet on generative search for B2B. For instance, "Bing Chat Enterprise" gets a prominent position in MS 365.



I think it's likely this strategy will see some success, so expect to see Bing gain some market share from Google in B2B search.


B2B SEO strategies will need to change as generative search gains popularity. In particular, there will be no prizes for P4 in the new world where the generative AI is building a shortlist of the top three.


Google has a problem because generative search has fewer opportunities to monetize than conventional search engines. Google will fight hard to maintain its revenues, so B2B PPC advertisers will need to pay more money for fewer impressions and fewer clicks – but in return, may get higher quality traffic from better-engaged and better-qualified search. Expect B2B PPC CPCs to rise, perhaps dramatically.
If I'm right about these trends, here are some things that B2B search marketers can do right away to be ready for the future:
Try out Bing Chat and Bard with some realistic B2B research tasks, to get some first-hand experience of these new tools. And keep trying them from time to time, to track the emerging user experience.
Stop ignoring Bing. If Microsoft's generative search strategy works, we can expect Bing to become a lot more important in B2B search marketing in future. At a minimum: set up Bing Webmaster Tools, so you can track use of Bing for your existing web content. And consider testing out Microsoft Search Ads for your B2B PPC.
And two more strategic areas to think about over the next few months:
Re-evaluate your SEO strategy in the light of the generative search user experience. The long tail of positions 4,5, 10, 100… are going to be much less valuable when the generative AI is building a shortlist. Where can you be position 1, 2 or 3?
Build confidence in the ROI from your B2B PPC. And focus relentlessly on the user experience of your PPC landing pages. Because CPCs are going to rise, and only companies who are confident in their PPC investments, and who do the most to extract the most value from PPC clicks, will be able to compete.
For more details on these ideas, check out the recording of my Leeds Digital Festival presentation:
Have questions about generative search or any other aspect of B2B search marketing? We'd love to hear from you—and we offer a free 30-minute consultation. Get in touch!