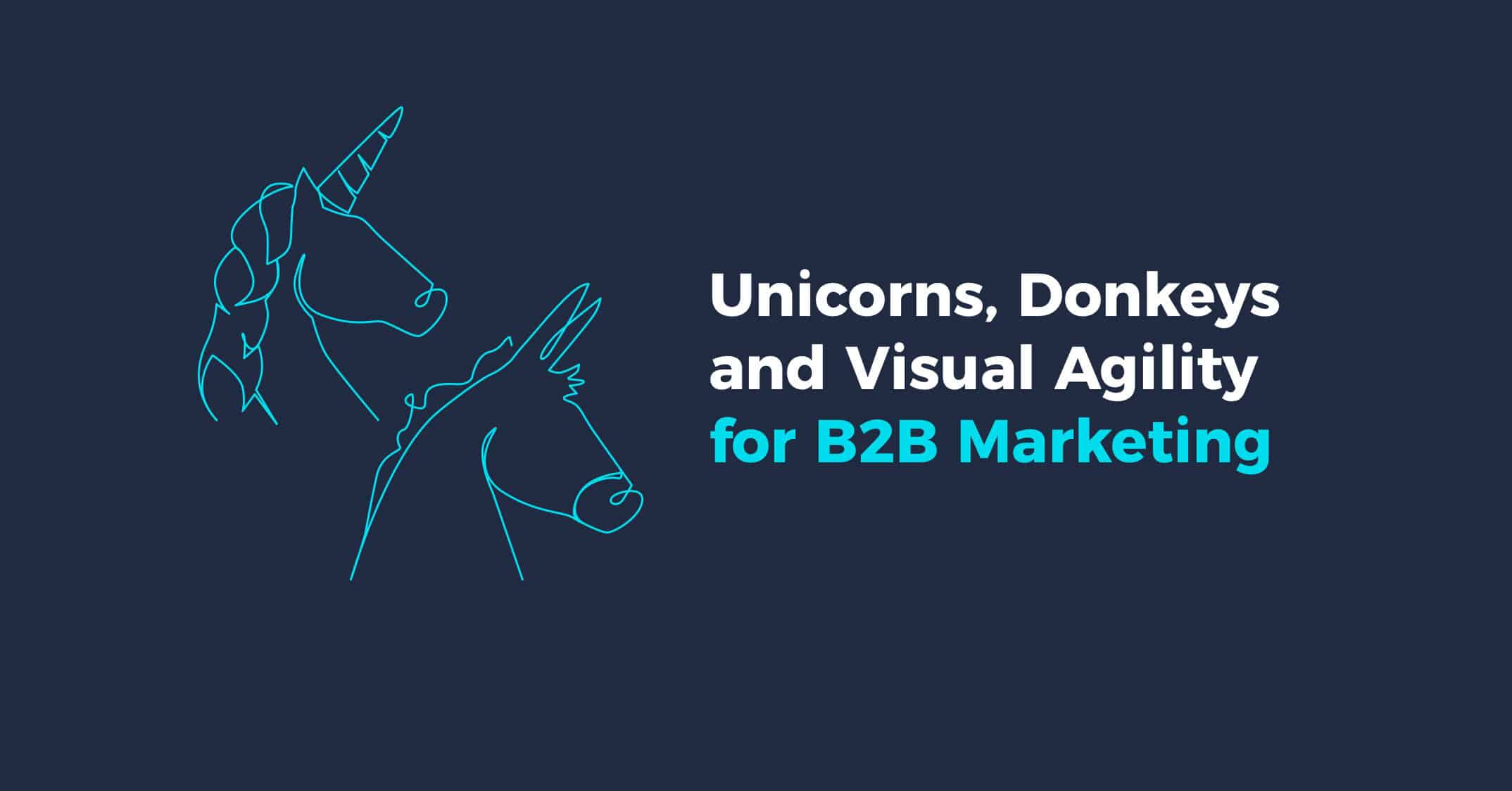 Unicorns, Donkeys and Visual Agility for B2B Marketing
By
John Woods
 |  September 14, 2023
How our house illustration style enabled us to seize a promotional opportunity at short notice
The Sharp Ahead team turned around a great thought leadership piece for our own marketing last week, producing a really impactful and novel presentation within a 48 hour turnaround time. You can see the end result here. It's a good case study in B2B marketing agility so I wanted to share the story of how we made it happen.
Why we love illustrations for B2B marketing  
Illustrations are great for B2B marketing when other forms of visual messaging can't do the job. They allow complex and abstract ideas to be expressed visually in ways that photography often can't address.
At Sharp Ahead we've long been advocates of developing a house illustration style and an associated branded illustration library. You can see many examples of the "illos" that we use in our own marketing around this website. And we've developed similar approaches for several clients. These illustration libraries become reusable assets that can be applied over and over again in campaign execution.
A B2B marketing challenge with a tight timescale
One of the key benefits of an illustration library is agility, the ability to take advantage of opportunities as they arise. Our recent thought leadership piece is a great example of this. Let me take you through the timeline. 
The opportunity: my friend Phil Pearce (who runs specialist digital analytics agency MeasureMinds) asked me to speak at an online conference, GA4Ward. Another speaker had dropped out at short notice. This was a great opportunity to promote Sharp Ahead's thought leadership to a large audience, but I had only 2 days to prepare my presentation. 
The challenge: I had a rough idea what I wanted to say at the conference, but the only relevant slide deck I had was 7 years old (!) and didn't reflect our current branding and positioning. Plus I needed to add some completely new material. We didn't have much time available but I wanted the end result to look professional and on-brand, as well as providing interesting and entertaining content for the conference attendees. So we needed to be very agile! 
Illustrations enhance agility
We'd already invested some time in building up an illustration library, so we had a great start. I was able to put the main framework of my slide deck together using ready-to-go illustrations. This gave me about 80% of the material I needed. But there were still some key bits missing: 
I needed some graphics to show the difference between high quality and low quality B2B leads

 

I needed a slide to illustrate the chaotic and confusing nature of the B2B sales process

 
We didn't have anything suitable for those in our existing illustration library. But we do have the luxury of an in-house illustrator! So I was able to brief our illustrator to quickly create the new illustrations we needed and get those turned around within a couple of hours. 
The first missing part needed a bit of thought. We had a brainstorm as a team and settled on the idea of "unicorns" to represent the high-quality leads and "donkeys" to represent the lower-quality leads. 
Some quick work from our illustrator gave me some new graphical elements from which I was able to quickly build up the diagrams I needed in my slides. Here's an example (showing a campaign with an 20:80 split of good:bad leads):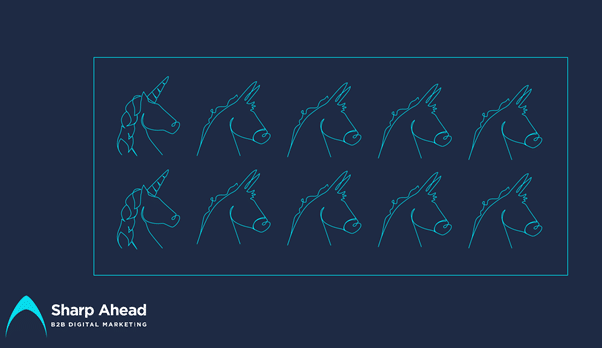 I love how the unicorns and donkeys look kinda similar at first glance – which reflects the truth of B2B lead generation in that good leads and bad are often mixed up in a single "conversions" metric.
Finally our illustrator was able to address the second missing part with another custom illustration to show the chaotic nature of the B2B sales process (with guest appearances from our new friends the unicorn and the donkey!):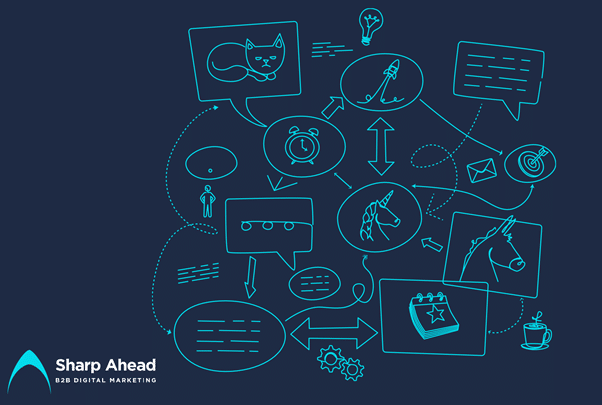 The end result: a great thought leadership presentation, built from scratch in just over a day, with some wonderful visual metaphors that we'll be using again and again.
Like what you see?
I hope I've convinced you that a branded illustration library is a great asset for B2B marketing.
We help clients develop illustration libraries and we can provide on-demand illustrator support for the occasions – like the one I've described above – when you need to expand the library at short notice for a special project. If you'd like to use illustrations to power up your own B2B marketing, we'd love to help – please get in touch!
If you have questions about B2B email metrics or need any other help with your B2B email marketing, please get in touch!
<< Back The big open rate lie What's a good open rate for a B2B email campaign? It's an innocent-seeming question and I hear it
Read More »